New Facebook Features to Know About
March 31, 2021 12:30PM CDT
The only sure thing is change. I think some old philosopher guy once said that, but it sure holds true in today's social media landscape!
Facebook announced this week a few tweaks to their platform that gives more control to users like you and me and relies less on algorithms (yay!).
-FAVORITES!-
The first big change is how we can control what we see on our own newsfeeds (instead of Facebook telling us what to see). It's called "Favorites" and let's you control and prioritize posts from the friends and Pages you care about most (like we here at 95.9 The River!?) in News Feed.
HERE'S HOW TO SET UP FAVORITES
To manage Favorites:
Click

in the top right of Facebook.**

Click Settings & Privacy.

Click News Feed Preferences.

Click Manage Favorites.

Select Favorites by clicking

next to a person or Page. To find specific Friends or Pages you follow, use the search bar. To remove a Favorite, click

next to the person or Page you want to remove.

When you are finished, click

.
**NOTE: I AM ONLY ABLE TO ACCESS THIS ON THE DESKTOP VERSION OF FACEBOOK, NOT ON MY MOBILE DEVICE. I ASSUME THAT FUNCTIONALITY WILL BE COMING SOON
By selecting up to 30 friends and Pages (the River 😇) to include in Favorites, their posts will appear higher in ranked News Feed and can also be viewed as a separate filter. People who use Favorites frequently can access it from the Feed Filter Bar, a new menu at the top of News Feed (I don't see this yet on my Android device, but I'm sure it's coming).
-COMMENTING CONTROL-
The other change Facebook has made is controlling who can comment on your posts!
Now, you can control your commenting audience for a given public post by choosing from a menu of options ranging from anyone who can see the post to only the people and Pages you tag.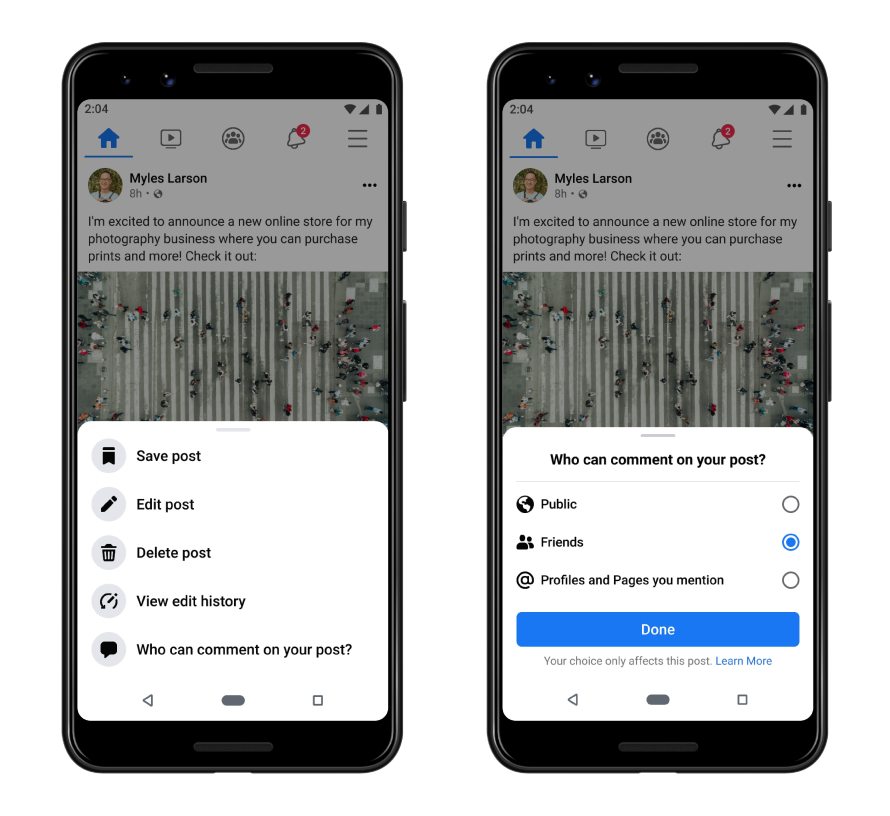 ---